Enterprise Mobility Management – Should we implement EMM?
Author: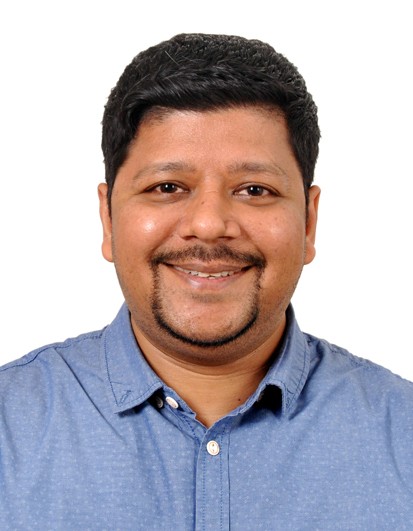 Nitin Agarwal
| on June 26th, 2019 |
Mobile App
Implementing processes, technologies and policies to effectively manage and use mobile devices and software within an organization is known as Enterprise Mobility Management.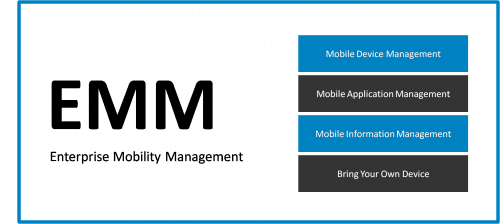 Either a company or its employees own mobile devices which need to be managed, secured and owned.
Companies can strategically monitor cost distribution by efficiently allocating mobile devices and careful plan optimization for enhanced connectivity. An intuitive dashboard in the EMM solutions helps in tracking down the real-time device usage and authorizing employees the different levels of mobility.
EMM in recent past has produced results that were well beyond the capabilities of any organization not using it.
Components of Enterprise Mobility Management
The EMM ecosystem consists of several parts.
Mobile Device Management (MDM)

Mobile Application Management (MAM)

Mobile Identity Management (MIM)

Mobile Information Management (MIM)

Mobile Content Management (MCM)

Mobile Expense Management (MEM)

Bring your own Device (BYOD)
Enterprise Mobility Management work excellently for varied industries
Many industrial sectors have implemented the profound potential of EMM to generate incredible amounts of revenue and ameliorate the way they have been doing business until now.
Companies and their top-level management find Enterprise Mobility to have mammoth potential in bringing the best out of employee productivity.
Predominantly, most businesses tend to shift their entire focus on increasing customer satisfaction. However, they often overlook the profound impact EMM can make on internal processes.
The range of device management policies from BYOD (Bring Your Own Device) to lesser-known policy COPE (Corporately Owned Privately Enabled) help in deciding what might play well in your organization.
Yet, nearly 87% of IT top managers have now come to understand just how important enterprise mobility is for the growth of their business.
Enterprise Mobility Management for all industry verticals
Ryanair DAC is an Irish Airline known for its low-cost services, had replaced paper manuals with iPads seen a tremendous rise in aircraft efficiency as well as in-flight accuracy. This is one of the most notable examples of a well-thought digital transformation strategy revolving around Airlines customers.
Similar upshots are witnessed in United Airlines when Apple and IBM together devised a solution for its workforce for delivering better services to their greatest assets, customers.
Alaska Airlines, Delta Airlines, and many other carrier services are leveraging the lucrative and various other benefits of Enterprise mobility management.
It is not only Airlines that is enjoying quite many benefits of an unparalleled EMM strategy. From Travel carriers, cruises, research, real estate and airports to banks and hotels, the strategy is responsible for making remarkable strides in employee interaction and consumer satisfaction.
The essence of any successful business is devising a foolproof Enterprise Mobility Management plan that works in accordance
Healthcare companies easily satisfy HIPAA compliance rules through its comprehensive device security. The solution can entail features like secure access control, encryption, and remote device wipe to ensure HIPAA regulations are met.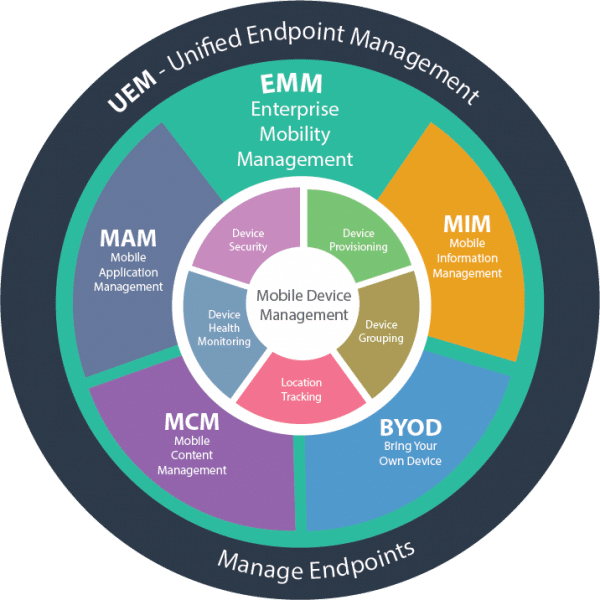 The aforementioned use of EMM in varied industries provides a view of how companies strategize and ensure the optimum use of mobile device owned by them or their workforce. However, the concept is incessantly evolving to better address challenges and requirements through software deployed on these devices.
And following are the significant benefits of EMM concept –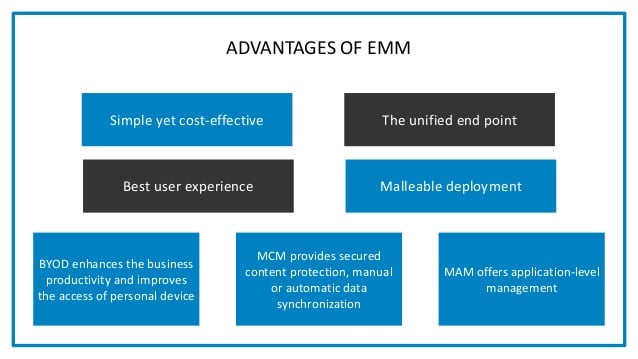 1. Be there for your employees in times of need – With Enterprises mobility as the core of any business strategy, employees can always count on top management for any assistance required regardless of the location. 
Employees working in field jobs can also tap into any information they might need from the workplace in seconds. This is very much possible through IT-controlled, secure virtualized access wherein these employees can gain authorized access to virtual applications, desktops and data through remote display protocol.
Another way to ensure service delivery is by introducing containers that consist of third-party and custom applications that can be modified and provisioned in compliance with IT policies.
2. Portability for the best of service delivery- An added advantage of EMM is portability. It allows an employee to carry the mobile device anywhere, at all times. With devices such as tablets, smartphones, PCs, etc in hand, employees can connect with the workplace at any hour of the day. 
Aviva in Poland is deemed as one of the largest companies in the country dealing with life and pensions of nearly 35 M customers across the globe. Partnering with a famous EMM provider and Samsung, it had integrated technology to exponentially increase its productivity.
Utilizing GALAXY S3 and S4 Mini devices for its EMM, it was able to remotely manage the fleet of mobile devices through the internet. The solution had entailed enabling enterprise-level security and flexibility of carrying the mobile device anywhere and everywhere.
3. Security for an unparalleled EMM – A good EMM strategy is highly secure. Mobile devices that employees carry on their field jobs consider security as the biggest fuel to seamless industry functioning.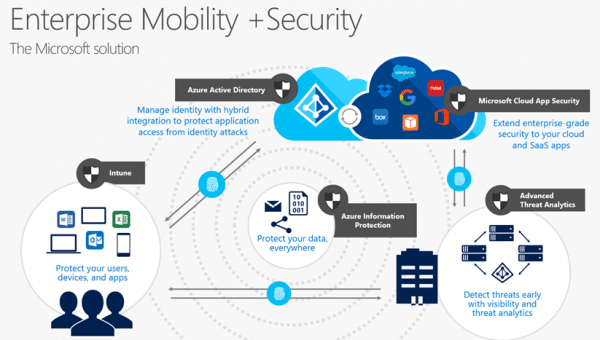 Implementing features such as user authentication, end-to-end encryption, monitoring, access authorization, and compliance leads to secure Your Corporate Apps, Build a Secure App Catalog, Implement Inventory and Search Capabilities, Simplify the Enrollment Process, Support Multiple Device Platforms and hence is quintessential.
ANZ bank opened its very first office in Sydney, Australia in 1835 and boasts the workforce of nearly 50, 000 employees and assets of whooping AU$772.1 B, making it one of the largest companies in the country.
The bank for some time now has been utilizing the AirWatch Software Development Kit to develop more than 20 custom mobile applications.
Apart from helping its people at a manifold level, the bank also grants its customers the ability to update, view and implement personalized recommendations pertaining to finance on mobile devices. A highly secure engagement tool on iPad-integrated with backend system is sufficient to finalize the deal.
4. User Experience is the essence of EMM – A concoction of user experience, user convenience, user needs and device security is hard to meet with EMM. Organizations often find this mix hard to deal with. However, by implementing personalized settings in employee devices, these organizations may grant access to applications to users and thus accommodating their requirements.
Undoubtedly, file and link sharing becomes more prominent when it is all possible via a secure channel. In such scenarios, users feel less restricted.
For example, ANZ bank in Australia had developed an application that bankers could use to showcase their financial products to potential customers.
5. Productivity is a positive outcome in EMM – Apart from an application solely built for ANZ bankers for marketing purposes, it also featured toolsets for interacting with overseas ANZ colleagues. 
Clients from New Zealand and Australia are spending colossal amounts on businesses in various other countries.
"The bankers after EMM implementation have talked about the increase in information sharing and productivity leading to more number of customers post-appointment."
EMM strategy brings with itself a way to ensure productivity. Any organization implementing this strategy will need to ensure that productivity is a major goal. 
Welcome to Wildnet Technologies
Wildnet Technologies enjoys the rich experience of its teams that have made an EMM strategy a great experience for companies across the globe. The organization insists on introducing methods to ameliorate marketing methods and enhance customer experience through a unique yet first-class EMM plan.
The team working on EMM strategizing is glad to share its vast portfolio featuring companies that have immensely benefitted from changing the way of doing business.
Our team caters to some pre-requisites of EMM such as authorizing mobile device access, security through encryption and ensuring the best of user experience including everything that Client Company requires ensuring their satisfaction.
Conclusion: Cloud and EMM are driving forces in business growth. Through apps, mobile devices become deeply integrated parts of business processes. We will enable you to develop apps, deploy them to manage devices to secure them and manage the apps with as little overhead as possible.
Do you want to know if EMM would work for your company too? Do you wish to give your organization a complete makeover set on the course to accrue financial benefits?
You can share or like it:
Need help ! Contact Us