How to Develop a Video Streaming App like Netflix
Author: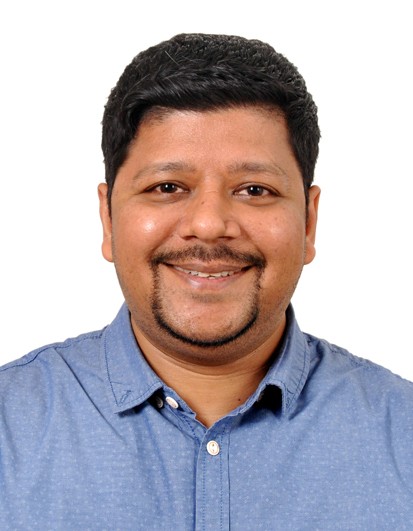 Nitin Agarwal
| on June 4th, 2019 |
Mobile App
Any app idea can be successful if you are sure about its success. It is always a question Why you should develop a Live Tv, Media, Movie Video Streaming Application and How to go about it?
A research on the mobile device video viewers in the United States expects to soar to whopping 176 M this year. It is approximately 40 M more than what we have witnessed 5 years ago. It is quite evident that nowadays more than 80% of video viewers use mobile devices to watch streamed content.
eMarketer in its first ever worldwide streamed video forecast report had unveiled the mammoth potential of digitally streamed content. According to the global research provider giant, nearly 2.3 B people had watched live streaming video content through a number of devices last year. 
Did you know this is exactly double the number that was found in 2014?
Thanks to the flood of online streaming content available in any and every category one can recollect. Online Streaming video content is an integral part of the Digital Economy and that gave birth to apps like Netflix.
Initially a DVD rental company to video-on-demand subscription platform, it is now rolling in subscriptions.
From mid-2011 to March 2019, Netflix had bagged 61.97 M subscribers only in the United States which accounts for half of the total app users. Statista again!
And today Netflix boasts nearly 159 M users globally. Equally intriguing statistical data can be seen in Amazon or Hulu and all other video-on-demand services.
Reasons that have fueled the growth of Video Streaming Services
Statistics pertaining to the growing popularity of video streaming industry have intrigued the world.
The world is "Cutting the Cord" more than ever. People are growing interest in Amazon, Hulu, Twitch, Youtube, Netflix, etc.
Where YouTube closes in on more than 5 B views every day, Amazon Prime Video grabs the second position having the largest number of subscribers in the US (26 M to be exact!).
Online Streaming Apps are now getting more and more advanced with the Virtual reality for Live events.
Hulu application has close to 100 pieces of premium virtual reality and 360 content including exclusive content from Hulu, Live Nation, National Geographic, and more. The Hulu VR app features interactive 360-degree episodes and films, including the new live-action VR comedy Door No. 1, A Hulu VR Exclusive. You may compare the features of the best streaming apps of 2019 later
What drives the success of these services? Here we see –
Internet availability – Irrespective of time, the Internet is what we get every minute of the day.
Categories – One of the most important and powerful reasons is the categories available in videos available on streaming services.
Pay minimal, watch everything – With a meagre subscription amount, viewers get the advantage of watching countless videos.
Enterprises are relying on videos – Businesses are haemorrhaging cash on videos, predicted to soar to $19.8 B in the next four years (marketandmarket predictions). Videos are a proven collaboration as well as a communication tool making enterprises enter into the very sector.
Device Availability – As mobile devices come with higher screen resolutions under technological advancements, the experience of watching streamed videos becomes even better.
Stats are convincing. Reasons to develop an application such as Netflix, Hulu, Amazon or Twitch are precise and clear.
All things being equal, how do we really go about making a video streaming application.
Here is how to make a beautiful, fully functional video streaming application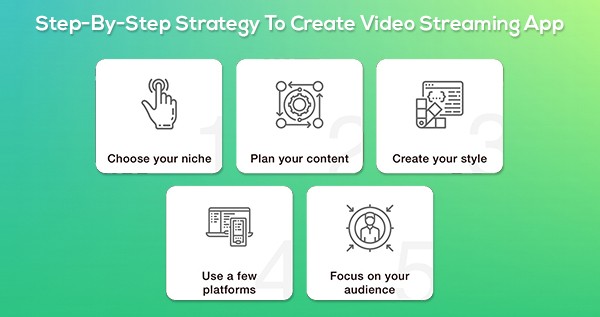 For any video streaming application out there, the following characteristics features can really stand it out from the herd of similar ones –
a. Platform compatibility
b. Categories to watch
c. Ability to express views on a video
d. Quality and Resolution
e. The uniqueness of the design of an application
f. From registration to subscription, user experience is paramount
An aesthetic video streaming application comes with numerous lucrative benefits, prominent of which is selling subscriptions.
Tech stack should be the first step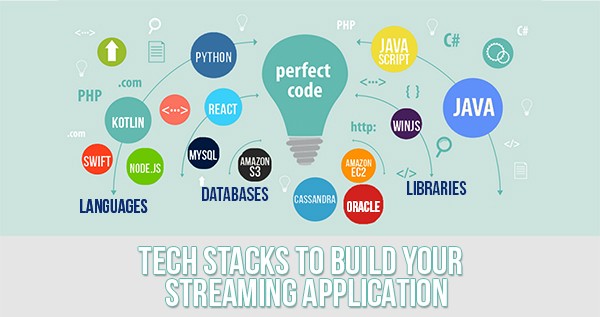 To initiate the development process, companies might often fall for choosing the technology stack that has been used by industry giants. However, that is not going to work this way.
Start small.
Grow eventually.
Technology has and will evolve.
Your requirements may be different than those of industry leaders in the market.
In future, technology might give countless opportunities to develop your application from tools that are comparatively less expensive, smarter, and more efficient.
Best described through an architecture
The entire system is best described in layers-
Server – The top layer i.e. Server will accept the stream chunks converting them into a compatible format for further distribution.
Distribution – Here the client receives the media on request.
Client software – selects the video for request, downloads.
The overall emphasis is to have an unsurpassable-quality, inexpensive solution for rendering a great user experience.
Did you also keep a check on these characteristics of a good video streaming website?
Bandwidth
Latency
Security
Network connection
Storage
Variations
Time for

Video Streaming Protocols
Live streaming platforms often require video streaming protocols that handle breaking down of video content into pieces and sending them across to be reassembled later.
Adaptive Bitrate protocols deliver quality.
The real-time messaging protocol offers the least latency.
MPEG-DASH over HTTP resolves technical problems often encountered in compression and delivery.
WebRTC protocol requires zero plugins or downloads and allows the transmission of video and audio between multiple browsers, all in real time.
HLS or HTTP Live Streaming protocol has earned immense popularity in delivering the ultimate user experience.
Wildnet Technologies for your Video Streaming Application
With a decade into technology and striving to offer world-class services to its clients in the same, Wildnet has the expertise to get the job done.
As the popularity of video streaming applications is on the rise, it is very much likely that the industry would enjoy financial growth in years to come. And we would love to see our clients be a part of that growth through our technical expertise and understanding.
If the idea of developing a video streaming application interests you, just write to us and get the best quotation.
You can share or like it:
Need help ! Contact Us