About Salesforce
About Salesforce
Salesforce is an Australia's consumer utility mobile app offering convenient services in dry cleaning and laundry. The app is designed to help people living in the suburbs coping with the day-to-day laundry problem with premium quality cleaning in market standard pricing causing zero hassle.
Challenges
Challenges
Client had no customer relationship management system in place and they were using Microsoft Outlook and Microsoft Excel to manage their leads and customers. Client was looking for a system that would help them become a sales-focused company and that would provide better organizational and reporting capabilities. Client has decided to implement Salesforce because it would support their transition and help them better manage their accounts, track their events, and allow them to monitor account activity. Client was also interested in Data.com.
Design
Design
Our experts designed the app to make it look more enticing, easy and fun to understand and use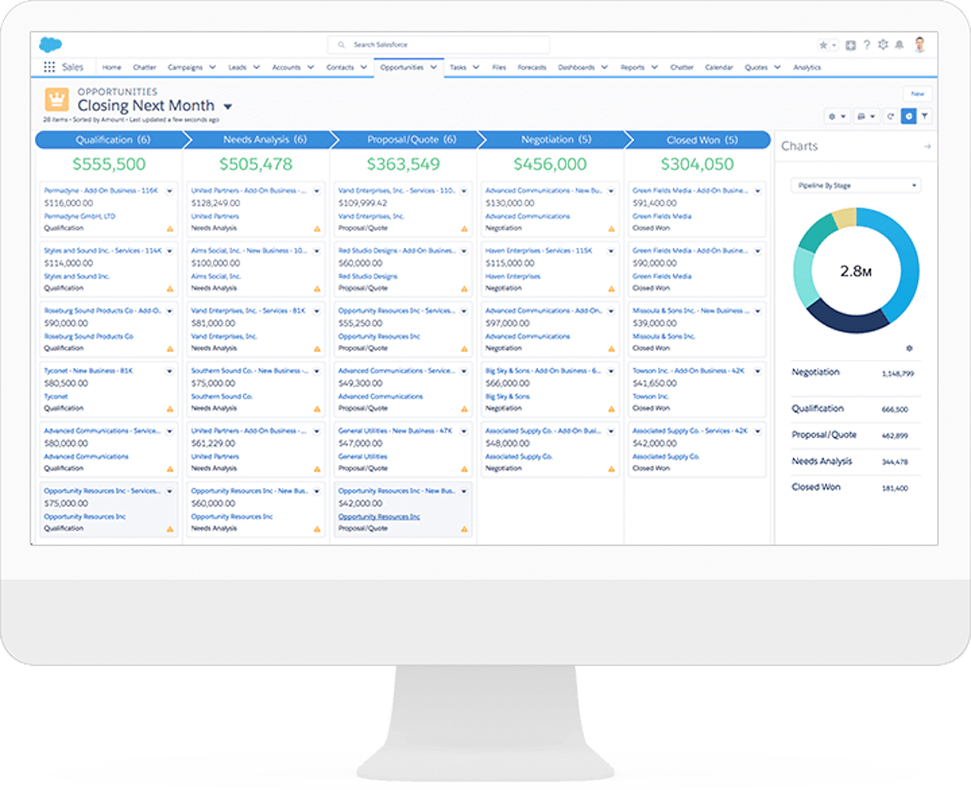 Solution
Solution
Wildnet customized Salesforce to fit Client's business, including changing the date fields to include event date, booking date, and closing date, as well as integrating with Microsoft Outlook. In addition to setting up Salesforce, we also configured Data.com and imported their leads and accounts from Microsoft Excel into Salesforce. After we imported their data, we cleaned their database to remove any duplicate records using Data.com's product, Data.com Clean.
Platform Compatibility
Platform Compatibility


Salesforce Features
Salesforce Features
Client is now able to have a more personalized relationship with their customers, knowing that the customer data they hold is complete and up to date. There has been an increase in productivity due to decreased time searching for data, andprocess automation.
A key business objective for client was to improve transparency, and the new solution has made significant improvements in this regard. The new custom reports and dashboards allow the team to gain valuable insight into their data-sets and be better prepared for the future growth that undoubtedly lies ahead.
Essential Features
Essential Features
Salesforce caters to customers who are looking for reliable and affordable laundry services. The app features
Zero dime pickup and delivery
Hourly slots for pickup and delivery
Open all days except Sunday
Insurance covered
Cashless services
Delivery Time
Delivery Time
We take pride in our delivery timeline:

1 Salesforce Developer
for 2 months

1 Part-Time Manager
for 2 months

1 Designer
for 2 months