5 Recommended Practices for this Mother's Day SMM Campaign
Author: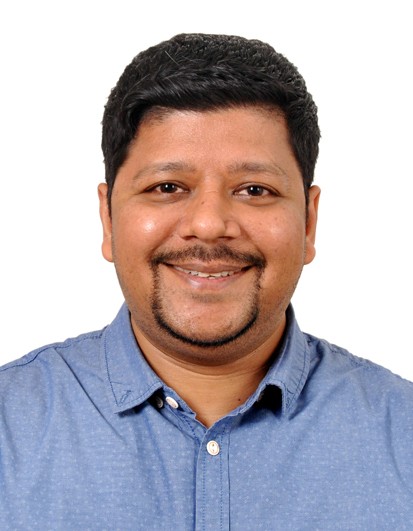 Nitin Agarwal
| on May 20th, 2016 |
SMO
What is Social Media Marketing?
Social media marketing refers to the process of gaining traffic, user engagement or attention on website, products, services or offers (as per planned activity) through various social media channels such as Facebook, Twitter, LinkedIn, Instagram, Pinterest, You Tube, Stumbleupon, etc.
We at Wildnet Technologies deals into White Label SMM activity providing a dedicated resource for all SMM needs of the client. Our campaign focus is decided after intense brainstorming sessions among SMM experts, SMM Project Manager & client.
Leading from front, we find it right time to share insights of SMM Campaign for Mother's Day which is falling on 8th May, 2016; eventually concluding to help our clients to understand importance of Monther's Day SMM Campaign & strategize accordingly.
Trends in SMM
Social media marketing is in itself a trendy platform which helps advertiser to trend their brands, products, offers irrespective of long and short term goals. But then understanding the business requirements, you must be aware of platforms utilizing for your SMM activity since not all platform is going to perform for a domain or industry.
Choose your channels wisely, like twitter can be more prominent in 2016 for advertisements and Google+ may fade a bit since it has nothing unique or a USP to keep it separate from other famous channels.
Never miss to track any upcoming latest social channels since which can hit the market you never know. Like Ello which is forecasted as biggest threat to Facebook.
Select your campaign goal; choose social channels accordingly as per your audience too. Considering these factors as crux will surely result into an effective SMM campaign on Mother's Day for your brand.
Why SMM Campaign on Mother's day
Below mentioned facts will make high adrenaline rush & ask you Why Not?
There are now 7.2 billion people on the planet
There are just over 3 billion active Internet users
Nearly 2.1 billion people have social media accounts
Close to 1.7 billion people have active social media accounts
It's a bingo if your target audience is female.
Contact Wildnet Technologies for best SMM Campaign on Mother's Day for your brand. Don't let the time go!
Few examples via SMM Campaign for Mother Day
1. Mother's Day Tribute by Pampers India
The Facebook page that is a home for 72K fans has created a Facebook app – Mothers Day Tribute that creates a visual e-card and wishes mommy.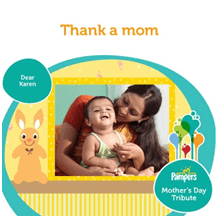 2. Maa Tujhe Salaam by Max Life Insurance
Max Life Insurance, which has more than 322K fans thought of saluting the mothers for their unconditional and selfless love. The Facebook app which is exclusive for the fans will require you to like the page before you can participate in the initiative.

3. Thank You Mom India by P&G India
The Facebook page – Thank You Mom India which has more than 1.6M fans has built a simple app – My Mom and Me. The brand has dedicated the entire month as mother's month and is asking fans to submit interesting snaps of them with their mothers. The brand promises to share the submitted pictures on its page with the community. Simple way to engage with fans.

4. ExtraTV Twitter campaign
Giveaways and contests are always a good tactic for increasing your social following, so why not combine these promotions with a timely event? Not only does this strategy from ExtraTV help the brand obtain more followers, but since the company asks for retweets, it also increases their visibility. Plus, this strategy will ultimately leave the two winning followers very happy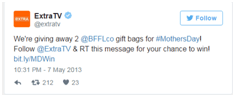 5. Google
Another feel-good strategy comes from Google, who has chosen to use Sunday's holiday as a way to shamelessly promote its very own social network. That said, this video is very relatable (almost a tear-jerker), and truly shows how technology can be used to connect with the most important people in your life.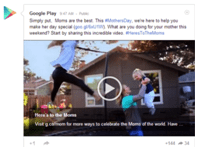 It's always proven that SMM Campaigns on any occasions results into greater success than normal days & if we are so lucky to have Mother's Day on coming Weekend, why left behind?
Just hire now Wildnet Technologies, one of reputed SMM Company based out of USA & India.
You can share or like it:
Need help ! Contact Us